Best Practices for Implementing a Risk Based Inspection (RBI) Program
Challenges and Considerations for Successful Implementation
Posted on | by Metegrity Inc. | Category: RBI, Asset Integrity Management, Visions Enterprise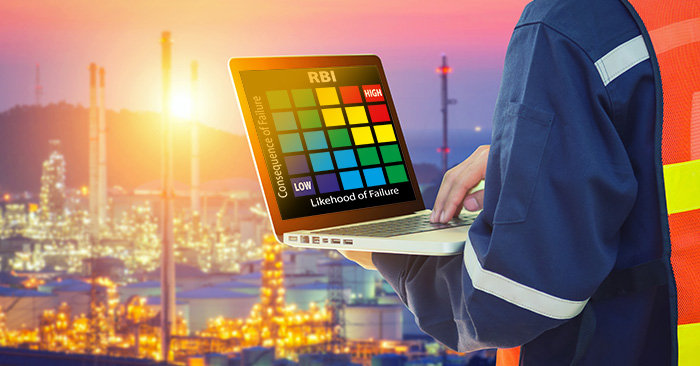 The immediate cost saving advantages of adopting a Risk Based Inspection (RBI) approach to asset integrity management are gaining momentum. More and more corporations are realizing that RBI, with its ability to intelligently analyze equipment's probability of failure (POF) vs consequence of failure (COF), is the more prudent approach to managing their critical assets. It assures that a structured, systematic, and technically defensible approach is used to make decisions. After all, it drastically reduces instances of equipment failure and more than halves the likelihood of unplanned shutdowns.
The question for asset intensive corporations now is not: "Should I implement an RBI program?"
Rather, the question becomes: "How do I go about it?"
Implementing an RBI program from scratch can seem daunting due to the inherent challenges a company will face. To ensure that the implementation is completed smoothly, there are key considerations that an organization should consider and prepare around. By doing so – and ideally with the help of a professional implementation team – the prolonged equipment life and cost saving benefits of RBI can be quickly realized for the organization.
What are some of the common challenges faced when starting an RBI program from scratch? To start with, the effort required to collect and organize all the necessary data to perform an accurate assessment. The severity of this effort will be contingent upon the unique data load of the organization. Further, the effort required to collect and organize all the necessary data to perform an accurate assessment should be considered; as well as the time commitment for the RBI team to meet, review the data and complete all assessments. It is imperative to ensure that the team is comprised of qualified members with the experience to perform accurate assessments. Finally, the company will need to utilize an RBI matrix that accurately reflects the organization's unique POF and COF factors.
RBI team members from the organization will quickly realize that the assessments are time consuming and require a significant amount of diligence to complete. Time management issues will affect all the team members. To facilitate a speedy implementation, it would be wise for management to be considerate of this reality. Management should be prepared to support the program by allowing the team members the required time to commit to the program, and by temporarily de-prioritizing other responsibilities until the project is complete.
An organization which is unprepared with incomplete equipment and process data will be at a major disadvantage in its ability to successfully complete the RBI program. Therefore, management support is critical to ensure all necessary resources are committed to the project. It is imperative that management understand the inherent risk and potential consequences of the company's operations. A personal review of the program with the RBI lead will ensure management understands not only the challenges, but the following objectives of the RBI program:
Improved risk management
An interdependent approach for managing risk
The application of a strategy that safeguards equipment integrity, improves reliability and enhances availability by planning and executing required inspections
Reduction of inspections and shutdowns, while providing longer run length without compromising safety or reliability
When putting together a team for the RBI program, it is crucial to select qualified personnel and then support them with comprehensive training. The RBI team members must be familiar not only with the RBI process, but also with the software employed. Upfront training for the team will ensure they are able to work together and analyze risk in a consistent manner. Team personnel must be sufficiently experienced in their field of expertise to provide timely and accurate information during assessments.
Once the team is in place, preparations are complete, and management is on board, implementation can commence. A typical desired workflow for starting an RBI program consists of:
1. Having a clear definition of objectives and goals for the RBI program.
2. Identification of all sources of data and verification to ensure quality.
3. Listing of all damage mechanisms and failure modes.
4. Selection of the most appropriate POF and COF methodology.
5. Assessment of past inspection effectiveness, results, and planning.
6. Selection of the right software (taking into consideration the source of the existing data).
7. Assembling of a trained RBI team with designated roles and adequate skills, experience and knowledge.
Selection of the right software is key to maximizing the efficacy and expediency of the program. Utilizing an RBI software that incorporates Asset Integrity Management (AIM) information, Integrity Operating Windows (IOW) data, and Corrosion Control Documents will ensure that assessment information is researched seamlessly, retained, and easily updated. Companies should be diligent in the research and selection of an RBI software, seeking out one that features wide acceptance, an excellent track record, and continuing support which will ensure the software reflects the current industry standards.
Implementing an RBI Program with Trusted Experts
Metegrity is an industry leader in asset integrity management software which incorporates all RBI models for asset intensive industries. Our suite of inspection data management software (IDMS) modules utilizes built-in RBI capabilities for clients with pipelines, plants and facilities. Our team of qualified experts is highly experienced in supporting the development and implementation of RBI programs for large corporations around the world. Our flagship product, Visions Enterprise, currently protects over $550 billion in assets across 850 facilities worldwide.
Press Releases
---
Latest Posts