Regulatory Compliance in Asset Integrity Management
Ensuring Audit Compliance with Regulatory Authorities and Industry Codes (e.g. API, ASME, ISO, OSHA, ABSA, and others)
Posted on | by Metegrity Inc. | Category: Asset Integrity Management, Regulatory compliance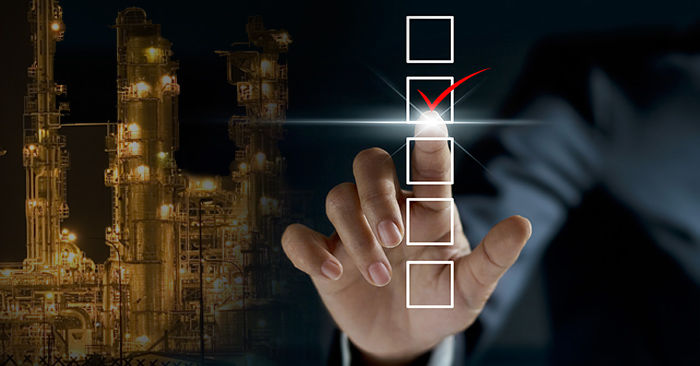 When it comes to implementing a mechanical integrity management program to protect critical assets, one of the most essential factors to consider is regulatory compliance. Adherence to regulatory standards protects owner operators from costly fines or possible insurance benefit losses that may accompany failed audits. Further, it expands the profit potential of the organization by improving equipment reliability and reducing costly instances of critical asset failure.
However, in the world of asset integrity management, regulatory compliance is not a "one fits all" process. Many factors shape the requirements of any given company to ensure that the reliability of the plant, pipeline or facility are intact:
geographical location of the assets (and associated local regulations);
type and nature of the assets and their relevant regulatory standards (e.g. API 510, API 570, et al, ASME, OSHA, ISO 5500, etc.);
directives set out by the owner's insurance company;
industry related provincial and state associations (e.g. in Alberta, the Alberta Boilers Safety Association offers an owner/user program to assist companies in maintaining integrity of pressure equipment).
While the specific model that each organization must adhere to varies, the driving impetus for considering audit compliance remains the same for all: to prevent and avoid catastrophic equipment failure, compromised health, safety and environment, loss of insurance benefits, and/or exponential fines.
With such financial risk at stake, the solution seems simple and obvious: ensure that your asset integrity program is in compliance with necessary auditing bodies. Simple on the surface, yes – but not as easy to achieve in actuality. Many companies still operate without a single system that can be accessed by all employees involved in maintaining records on equipment. When you're dependent on scattered paper files, mismanaged electronic data, or an assortment of Excel documents in complete disarray, it can be challenging (if not impossible) to demonstrate adherence to a regulator or an insurance adjustor, even when your practices comply.
Even when a company's data is more easily retrievable with the help of a database or third party software, it still may not be organized according to regulatory requirements (or a comprehensive audit trail is not easily accessible), making compliance difficult to demonstrate. A failed audit may lead to costly repercussions. A failed audit can also damage a company's operations in terms of efficiency, cost effectiveness, safety, environmental footprint, and reputation.
How, then, do owners of asset intensive corporations solve this problem? How do they ascertain which factors are relevant to their audit compliance needs, and then go about ensuring proper organization of their asset data in order to pass said audits? By implementing a trusted mechanical integrity software that consolidates and maintains critical asset data while ensuring streamlined compliance to all regulatory bodies with ease.
In order to tackle all of these problems at once, the software should:
Establish comprehensive maintenance and inspection data histories (ISO 55000);
Maintain thorough audit trails of all asset data that can be easily retrieved with the click of a button;
Automatically organize data according to the requirements of all major global regulatory standards, to ensure adherence to any given audit at all times;
Create Risk Assessments in any RBI model (as per API 581, CSA Z662 or ASME PCC-3);
Create integrity manuals, develop inspection plans, inspection and work tasks (API 510/570/571/653/584, ASME V)
Schedule full assessment, external and internal inspections;
Create, monitor and trend corrosion rates;
Generate automatic reports summarizing equipment status, inspection reports and frequency;
Etc.
With the proper software in place, all pertinent asset data is continuously managed automatically. It is kept up to date and always ready for analysis with the click of a button. This results in exponential time savings as far fewer people and efforts are tied up trying to locate and gather information for audits. It ensures peace of mind knowing that compliance is ongoing and automatic, making auditing a stress-free experience. Further, it improves the reliability and integrity of the assets as a whole, resulting in fewer unplanned shutdowns and reduced equipment failure.
Implementing Regulatory Compliance with Trusted Experts: Metegrity
Metegrity is an industry leader in asset integrity management. Our suite of inspection data management software solutions utilizes built-in RBI components for clients across pipelines, plants and facilities. Our flagship product, Visions Enterprise, is the only mechanical integrity software that offers streamlined adherence to all major global regulatory standards, including all of the capabilities listed above. It ensures comprehensive audit trails and reporting are readily available with the click of a button. Visions Enterprise creates unique risk models which assess a client's assets, incorporates that data into a centralized database, and tailors an integrity management program to maximize ROI. Metegrity currently protects over $550 billion in assets across 850 facilities around the world.
---
Related Information
Press Releases
---
Latest Posts