Reframing PSM in the Context of Operational Risk Management and ESG Sustainability, 18th GCPS 2022
San Antonio, Texas, USA –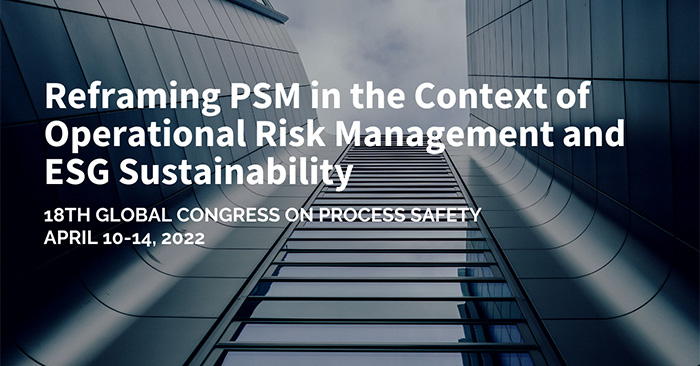 Join Metegrity in the 18th Global Congress on Process Safety (GCPS) happening on April 10 – April 14, 2022 in San Antonio, Texas, USA. Michael Marshall, PE., a specialist in process safety management will be presenting paper on "Reframing PSM in the Context of Operational Risk Management and ESG Sustainability."
The regulatory climate changed considerably following the highly publicized incidents at BP Texas City in 2005, Tesoro Anacortes in 2010, Chevron Richmond in 2012, and ExxonMobil Torrance in 2015. Each happened not due to a failure of equipment, instrumentation, facility siting, procedure, communication, supervision, or training, but rather a failure of all those things together, i.e., a management system failure.
Companies are now increasingly being asked by investors and external stakeholders to engage in a broader Environmental, Social, Governance (ESG) landscape relative to environmental, health, and safety (EHS) performance, and risk reduction in the context of asset integrity and process safety human factors (the "organizational incident") is at the core of that expectation. To that end, companies are currently seeking to ensure holistic, enterprise-wide visibility and accountability for dynamic ESG programmatic efforts, materiality assessments, and sustainability solutions.
Our industry can achieve more in the way of sustainable process safety improvements relative to Environment, Social, and Governance (ESG) policy. This paper on "Reframing PSM in the Context of Operational Risk Management and ESG Sustainability" to be presented by Michael Marshall, PE. in the 18th GCPS 2022 advocates for an "AIPSM" coupling of asset integrity and process safety management systems as per the following:
Analyze for systemic root cause and publicly report/benchmark near miss and unsafe conditions data of Tier 3 and Tier 4 PSE "free lesson" findings
Base incident mitigation and management systems on "equipment centric" asset integrity/performance frameworks rather than EHS regulatory compliance reporting platforms
More effectively integrate equipment with worker and production processes by evaluating process safety impacts as a function of mechanical availability and associated economic impact (lost production)
Rather than first understanding the application environment and then focusing on how software solutions can help, many software designers start with a "solution" and then search for problems to solve. To the contrary, and as based on decades of SME experience, the AIPSM solution was developed with a hands-on, Reliability Centered Maintenance (RCM) "closest to the work" mentality as well as a first-hand appreciation of management rank dynamics from field supervisor to department manager to plant manager to corporate VP.
Learn more about Visions AIPSM
---
Integrity Management Software
---
Industry News