Improving Project Expediency, ROI for Pipeline Construction Management
Posted on | by Metegrity Inc. | Category: Pipeline, Data collection, Reporting, Regulatory compliance, Pipeline Enterprise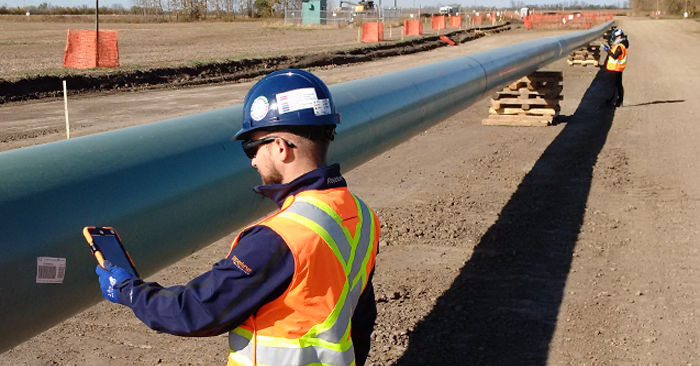 In a world dependent upon the transportation of fossil fuels, fewer industries have a more pressing need to ensure project success than that of pipeline construction and inspection. With safe, timely, project operations at the forefront of this industry's needs, why is it still so dependent on dated, inefficient practices?
Pipeline construction projects and inspections are still largely stuck in the "paper office" era. Site and weld imagery, progress reports, materials, production numbers, and inspection data are not readily accessible when needed – making it difficult to determine what is going on in the field at any given moment.
With dependency on paper reporting or Microsoft Excel for data entry, inspectors are forced to wait until the end of their shift to manually input all of their reporting. Those reports must then be passed off to administrative staff, and finally on to head offices – each time undergoing aggregate calculations and filtering up the chain of command. The result? Tedious forms. Paper recording for proof of completion. Excessive time lag between the data collection of images, inspections, progress, etc. Inefficiency in excess.
This negatively impacts processes and personnel at all levels of the project. The inspector adds excess hours of work. The project manager doesn't have immediate information on what's going on with the project, impairing his ability to react to any problems. Further, the project manager has to deal with each report in isolation, unable to manage all projects under one solution. This impedes the quality, effectiveness and immediacy of any QA/QC procedures, and ultimately effects profitability and expenses for Corporate.
Further to the costly financial toll that this creates is the very real risk such a system poses both to the projects, regulatory compliance, and the environment. Without immediate knowledge of a potentially devastating problem with the equipment, preventative measures cannot be readily taken. This increases the risk of shutdowns, failure, environmental hazards and other unforeseen consequences such as expensive pipeline digs for verification to meet regulatory compliance.
What the industry needs
The key to solving this industry problem is implementing a tool that offers standardized, real-time data collection and modern, efficient reporting. One that transforms inspection data and integrates it into a centralized database purpose built for quality, construction progress, personnel and project performance. Such a tool should:
Accept data straight from the field to encrypted servers, making information available to administration at all levels as soon as inspectors press "sync"
Push information for weld procedures to the inspector, eliminating the need for paper handouts
Utilize daily reports for the recording of contractor presence, tool and equipment expenditures, and more
Make pictures and GPS locations of welds readily available with no delay
Provide streamlined compliance with pipeline regulations for clear audit trails
This would enable management to refocus their attention to quality of product, employee guidance, and maximum effectiveness on site – eliminating the tedious practice of manual data entry. By providing immediate access to data with real-time feedback, problems could be addressed immediately.
This translates to:
Regulatory compliance
Reduced man-hours and overtime work to consolidate data, resulting in improved morale, efficiency and reduced expenses
Rapidly improved project expediency
Increased awareness, knowledge and control of what is going on in the field at all times, in real time
Reduced risk to the environment
Exponentially improved reaction times, reducing likelihood of shutdowns and associated costs
Maximized project ROI
Implementing the Solution with Trusted Experts
Metegrity is an industry leader in quality and asset integrity management. Our dedicated pipeline product, Pipeline Enterprise, offers real-time inspection data capturing and reporting. It resolves all the aforementioned issues plaguing the industry and provides a centralized database for immediate access to pertinent information across all levels of the project.
Metegrity currently protects over $550 billion in assets across 850 facilities around the world.
Press Releases
---
Latest Posts